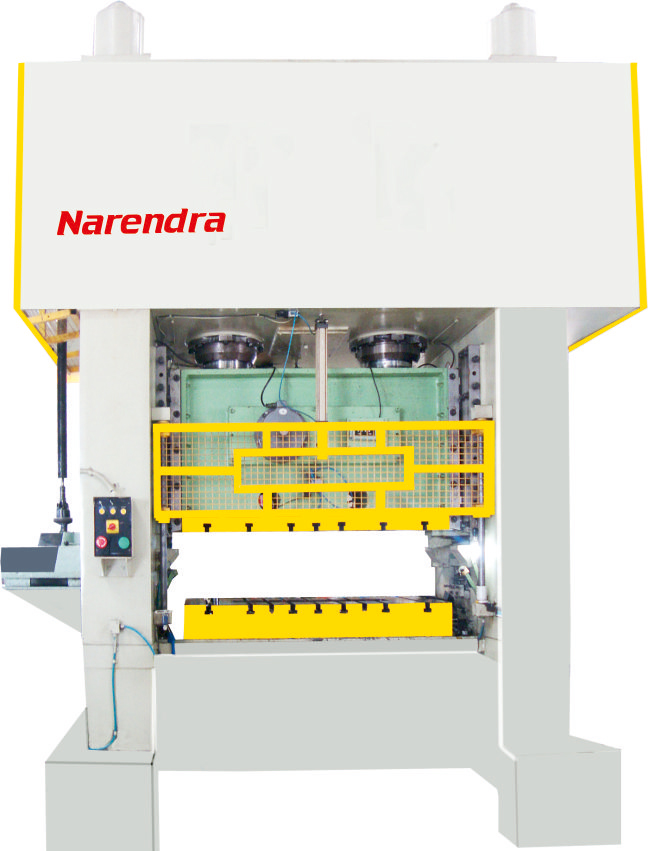 Download Catalog
Enquire Now
Two Point High Speed Press (NHP)
FRAME
Welded steel construction, stress relived, computer aided frame design, extreme rigidity with uniform parallel deflection, ideal for progressive tooling, ensure high speed laminating precision and rigidity
SLIDE
The slide is guided accurately throughout the whole stroke with high precision eight way bearing guides free from backlash. Eight point, square corner gibbing provides long parallel guiding surface that maintain slide parallelism under off centre load resulting high precision & long tooling life
CRANK SHAFT
It is made from a forged piece of carbon alloy steel. Shaft is ground finished on bearing surface. All main bearing are of heavy walled nickel phosphorous and bronze.
DYNAMIC BALANCING
Provides better precision quality of lamination and longer life by controlling the thursh and vibration in the frame generated by crank shaft rotation.
PLUNGER GUIDE
The rotation of eccentric shafts creates front & back loads that changes guides clearance this is controlled by plunger guided design this eliminates change in guide clearance resulting high precision.
HYDRAULIC SLIDE ADJUSTMENT LOCKING DEVICE
This eliminates clearances inside the slide adjustment assembly. Maintain accuracy of slide travel at bottom dead centre.
STICK RELEASE DEVICE
Resolves tool jam problem, easy to operate
LUBRICATION
Motorised forced feed lubrication is of re–circulating type ensures adequate oil supply,depending upon the bearing area ensures cooling of bearing as well as any fault in the system with cause instant stopping of the press and will be shown optically on control pannel.
NHP-200
STANDARD FEATURES
VARIABLE SPEED FREQUENCY DRIVE
RE–CIRCULATING MOTORISED LUBRICATION SYSTEM
DUAL SOLENOID VALVE
8 POINT GIBING
SHUT HEIGHT INDICATOR
SLIDE ADJUSTMENT MOTORISED
HYDRAULIC THREAD LOCKING
CONTROL THROUGH P.L.C
GUIDEWAYS BEARING ALONG WITH BEARING HOLDING BRACKET
SLIDE COUNTER WEIGHT
HYDRAULIC STICK RELEASE
OPTIONAL ACCESSORIES
ANTI–VIBRATION MOUNT
DIE LIFTER
DIE CLAMPER
DIE ARM
FLYWHEEL BRAKE
STRAIGHTNER WITH S–LOOP
CHANGE GEAR TYPE CAM INDEX ROLL FEED
AIR INJECTOR
Technical Specifications
MODEL
NHP–60
NHP–100
NHP–125
NHP–160
NHP–200
NHP–250
CAPACITY
TON
60
100
125
160
200
250
CAPACITY AT 20° BEFORE BDC
MM
3.2
3.2
3.2
3.2
3.2
3.2
STROKE FIXED
MM
30
30
30
30
30
40
SPEED VARIABLE
MIN(SPM)
100
100
80
80
80
80
MAX(SPM)
300
300
250
225
200
200
SHUT HEIGHT
MM
340
360
390
400
400
400
SLIDE ADJUSTMENT
MM
40
40
40
50
50
80
BLOSTER AREA(LR X FB)
MM
850 X 630
1100 X 700
1300 X 800
1600 X 800
1800 X 900
1800 X 1000
SLIDE AREA (LR X FB)
MM
790 X 450
1000 X 500
1200 X 600
1500 X 700
1700 X 700
1700 X 900
TABLE OPENING (LR X FB)
MM
710 X 200
900 X 200
1100 X 210
1300 X 250
1500 X 350
1550 X 350
OPENING IN BOLSTER
MM
AS REQUIRED
OPENING IN UPRIGHTS (FB X HT)
MM
300 X 300
350 X 350
400 X 400
450 X 450
450 X 450
450 X 450
BOLSTER THICKNESS
MM
115
140
150
160
180
180
HEIGHT OF TABLE FROM FLOOR
MM
900
1000
1000
1000
1000
1150
MAIN MOTOR POWER
HP
10
20
25
30
40
40
AIR SUPPLY BAR
kg/cm2
5.5
5.5
5.5
5.5
5.5
5.5