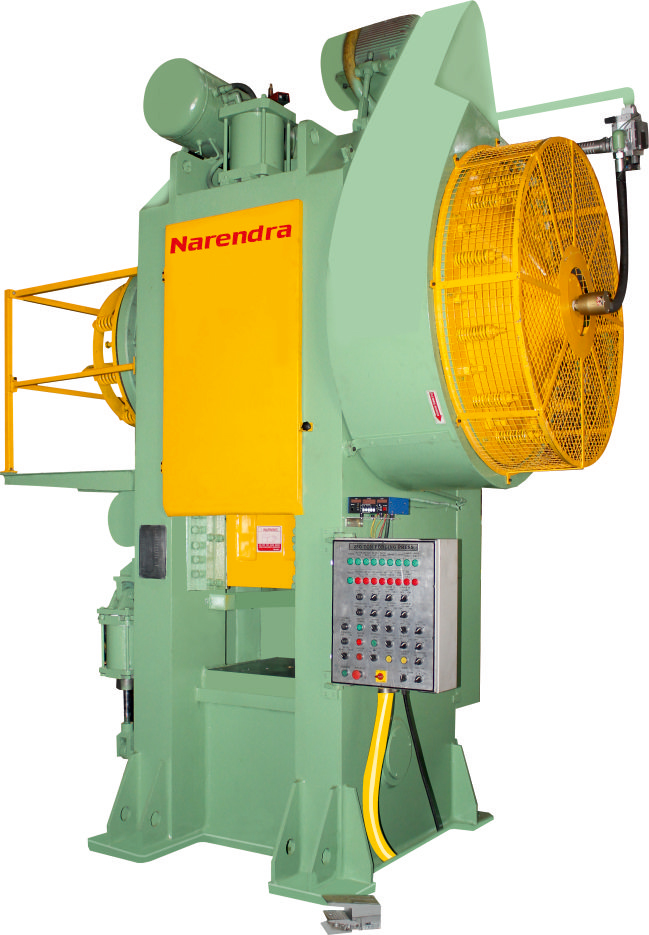 Download Catalog
Enquire Now
Hot Forging Press (NHF)
FRAME
The frame is rigid built from fusion welding quality steel plates with box-type structure duly stress-relieved & then accurately machined. The structure alongwith all its rigorously calculated key components and run through computer aided analysis for their loaqd distribution, and inspected thoroughly after welding. This approach thus minimizes deformation, maximizes the accuracy of the product, and extends the service time of dies and die shoe to their limits, reduces the vibration during operation.
ECCENTRIC SHAFT
It is obtained from a forged piece of carbon alloy steel. Prior to the machining, the shaft undergoes an ultra-sound inspection and a chemical and metallographic test. Shaft is ground finished on bearing surfaces. Even in case of heavy load, the shaft won´t be deformed. Its bearing area is large so that the stress can be decentralized to lengthen the serving of the shaft.
SLIDE
The slide is single piece cast steel and assembled with the link through pins housed and profusely lubricated inside the slides. Corner gibbing provides long parallel guiding surface that maintain slide parallelism under off centre load resulting increase of precision tooling life. The slide is fitted with replaceable bronze liners. The Gib Adjusting points are easily accessible.
HIGH TORQUE, LOW INERTIA SEPARATE TYPE CLUTCH/BRAKE
Clutch/Brake designed especiallyfor high frequency intermittent cycle and heavy load press operation. High torque, smooth start–up, fast coupling. Unique brake designed to be fast heat dissipation and low noise. Non asbestos linings, abrasion resistant, easy maintenance, more environment protection conscious.
SLIDE ADJUSTMENT & STICK RELEASE MECHANISM
Motorised Slide to adjust the vertical Ram stroke, it can be adjusted with in the range 0.01~ 10mm. It is conveniently designed to facilitate installation or removal of the mold. Stick release device and upper knockout device are provided for higher productivity and work efficiency.
LUBRICATION
The fully automatic and centralized grease lubrication system can reduce friction between varied mechanical parts and extend the servicing life of the mechanical parts. A safety device is also available to help secure that all the mechanical parts are in a lubricant state to prevent the oil circuits from being blocked to prevent thelubricants from running out.
Technical Specifications
| | | | | | | | | |
| --- | --- | --- | --- | --- | --- | --- | --- | --- |
| MODEL | | NHF-250 | NHF-400 | NHF-600 | NHF-750 | NHF-1000 | NHF-1350 | NHF-1600 |
| CAPACITY | TON | 250 | 400 | 600 | 750 | 1000 | 1350 | 1600 |
| TONNAGE RATING POINT | MM | 5 | 5 | 5 | 5 | 5 | 5 | 5 |
| STROKE LENGTH | MM | 150 | 160 | 170 | 190 | 220 | 240 | 270 |
| STROKES PER MINUTE | SPM | 110 | 110 | 105 | 100 | 90 | 85 | 80 |
| DIE HEIGHT (S.D.A.U) | MM | 400 | 530 | 560 | 580 | 640 | 700 | 780 |
| ADJUSTMENT OF RAM | MM | 08 | 08 | 08 | 08 | 10 | 10 | 10 |
| BLOSTER AREA (LR X FB) | MM | 600 X 700 | 600 X 700 | 670 X 780 | 850 X 900 | 900 X 1000 | 1000 X 1050 | 1200 X 1200 |
| SLIDE AREA (LR X FB) | MM | 580 X 600 | 580 X 600 | 640 X 680 | 740 X 780 | 830 X 880 | 880 X 920 | 1050 X 1000 |
| SIDE WINDOW | MM | 320 X 500 | 320 X 500 | 360 X 720 | 400 X 740 | 440 X 760 | 500 X 800 | 600 X 700 |
| LOWER EJECTOR (TABLE) | TON X MM | 2 X 40 | 2 X 40 | 2 X 40 | 2 X 40 | 2 X 50 | 3 X 50 | 3 X 50 |
| UPPER EJECTOR (SLIDE) | TON X MM | 1 X 20 | 1 X 20 | 1 X 20 | 1 X 20 | 1 X 25 | 2 X 25 | 2 X 30 |
| MAIN MOTOR | Kw | 18.5 | 30 | 37 | 45 | 55 | 75 | 90 |
| AIR PRESSURE | kg/cm2 | 4 – 5 | 4 – 5 | 4 – 5 | 4 – 5 | 4 – 5 | 4 – 5 | 4 – 5 |
| SLIDE ADJUSTMENT MOTORISED | Kw | 0.75 | 0.75 | 0.75 | 0.75 | 1.50 | 1.50 | 1.50 |
| LUBRICATION AUTOMATIC | | GREASE | GREASE | GREASE | GREASE | GREASE | GREASE | GREASE |